Home
Cyria materials: Steel
Blog
Cyria materials:
Steel
Steel is one of the leading materials in the world of street furniture. And understand why! It's resistant to impact and external aggression, and its properties properties make it an ideal material for outdoor landscaping!
Steel is a 100% material that can be recycled ad infinitum, and generally requires little maintenance. Practical for objects that stay outdoors 365 days a year!
At Cyria, we work with different grades of steel, always in keeping with the design and strength of our furniture. Together with their treatment and finish, each offers a modern aesthetic rendering, with an assertive style.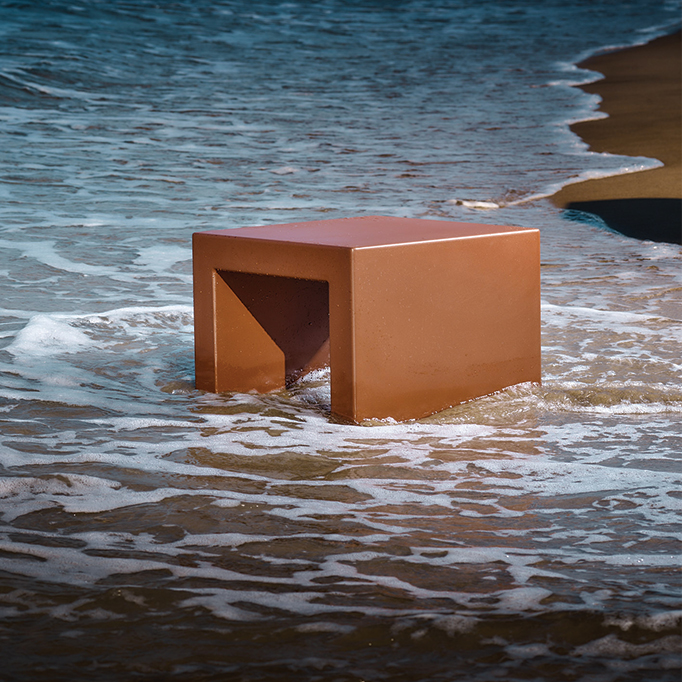 Powder-coated steel and paint finishes
Powder-coated steel is particularly appreciated in urban development for its many design possibilities. personalization it offers. With Cyria's exclusive finishes and thousands of RAL colors to choose from, you can put your own stamp on your space. But this steel's aesthetic qualities aren't its only advantages!

The powder coating of your steel furniture is always coupled with the Zalkyon® anti-corrosion process that we have developed over the years. This treatment makes our products more resistant, particularly to the aggressions of the urban environment. As you can see, we don't just promise you long-lasting, sturdy products; we're constantly researching and developing new processes to make them even stronger. As an added bonus, because it's important to us, this acid- and heavy-metal-free treatment is also kind to the environment and to people.

And because we pay attention to detail, every screw and fastener is also supplied in stainless steel, guaranteeing flawless products that will last a long time!

See powder-coated steel products
Corten steel and its nuanced shades
Not widely used until a few years ago, Corten steel is now increasingly present in landscaping, exterior design and certain indoor designs. Highly appreciated for its aesthetic qualities, high strength and low maintenance requirements, it is the ideal material for urban landscaping.


This superficially corroded steel forms a natural patina that gives it its original aesthetic and warm, non-uniform rusty color. Color variations are part of the uniqueness of this material. They add a modern yet natural touch to the design. Its hue evolves gradually, according to exposure conditions, from a shade of orange to a deeper brown-black hue.


In fact, this steel presents different stages of corrosion during which its patina intensifies, until it reaches a mature protective layer. Contrary to appearances, its unique alloy makes it some 10 times more resistant to corrosion than most steels. Thanks to its oxidized film, it offers lasting resistance to variations in atmospheric factors. Unalterable, it retains its properties and unique aesthetics for decades without special treatment. Just be patient and give it time to stabilize.


Naturally, for raw steel, the oxidation process can take from 24 to 48 months, depending on climatic conditions and location. But if you'd like to accelerate this process, we can provide you with solutions to meet your design objectives.


Would you like to receive furniture that has already been oxidized?
We have developed a process to accelerate the winding process, in the workshop, in a natural and environmentally-friendly way. This treatment produces an orange-yellow oxidation.


Would you like to place our furniture on a light-colored floor?
Beware of the risk of dripping and soiling inherent in the patina formation period! To protect your light-colored floors, we have developed a colorless process that limits the risk of dripping: the Prymext® anti-dripping process. This treatment gives the product a darker appearance, tending towards an "old leather" brown.


See products in Corten steel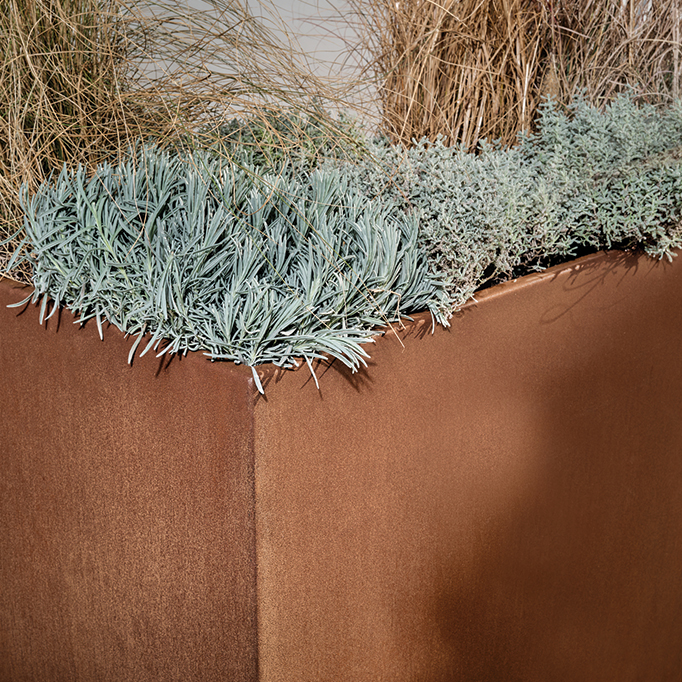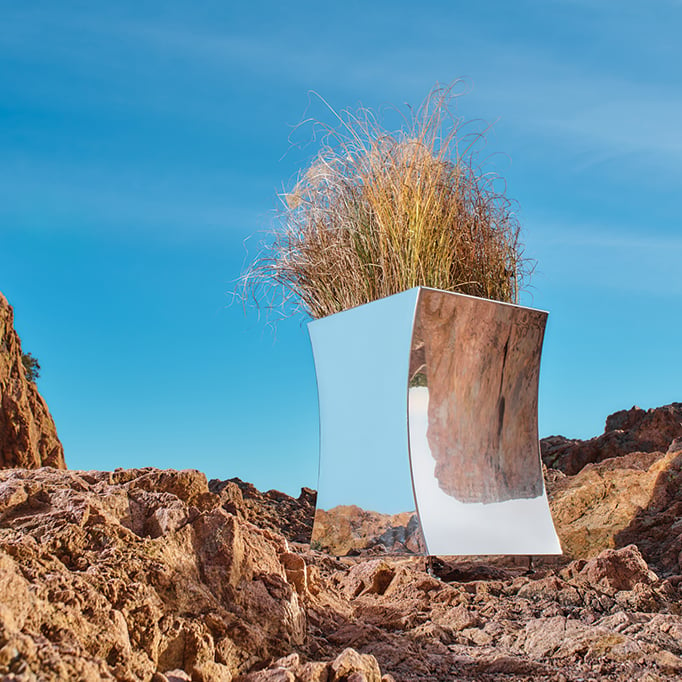 Stainless steel and its reflective finishes
Stainless steel is a highly weather-, UV- and heat-resistant material. Its corrosion-resistant properties and durability make it particularly popular for outdoor applications. With its modern, low-maintenance aesthetics, stainless steel is the perfect ally for urban landscaping.

To ensure optimum quality, our stainless steel components are treated with a complete finishing process (passivation, bead-blasting or electro-polishing).

There are many grades of stainless steel, and at Cyria we have chosen to use only 304 or 316L stainless steel, depending on the installation environment.

- 304-grade stainless steel can be used indoors and outdoors, but should not be installed in a "polluted" atmosphere (salty or chlorinated environment, industrial zone, port, swimming pool, chemical industry, cowshed, etc.). The installation must always be located more than 50 km from the coast, and humidity levels must be kept low.

Conversely, 316L quality ensures greater durability of our furniture, even in harsh environments (saline, damp, etc.). Molybdenum, a component present in 316 stainless steel, offers better corrosion protection in harsh environments.

Not sure which one to choose?
Contact our experts, they'll be delighted to advise you.

See stainless steel products
Back to Top